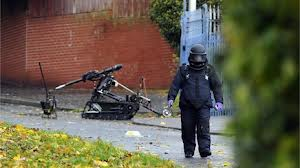 POLICE believe they have foiled an improvised mortar bomb attack during a security alert.
Intelligence information alerted the PSNI to the bomb plot which was to be triggered by command wire.
During following up inquiries, a 22-year-old man was arrested on Thursday night in connection with the alert in west Belfast during which 12 families were evacuated from their homes.
The bomb was found at the junction of the Shaw's Road and the Glen Road in the city.
A fortnight ago dissident republicans fired a mortar at a police Land Rover as it drove along the Falls Road.
Army bomb experts were called to the area to examine the device. Parts of both roads had been closed, but have now reopened.
West Belfast MP Paul Maskey said he had been told by police that an "improvised device" had been found.
He said 12 families had been moved from their homes during the alert.
SDLP councillor Tim Attwood said: "This is another extremely worrying development. It follows an attack on police with a mortar device on the Falls Road only two weeks ago.
"Those behind these attacks, whether planned or executed, are totally reckless and have no regard for the safety of anyone, especially residents going about their daily business."