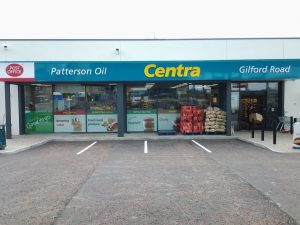 TWENTY-FIVE jobs will be created in Portadown with the opening of a new Centra store on the Gilford Road.
Local businessman George Patterson, who owns and operates Patterson Oil, has opened the recently constructed 3,000 sq ft shop, which has a forecourt and 24 hour fuel.
The Centra store replaced the existing Spar and forms part of a major investment with MPatterson Oil also relocated to the new site.
Patterson converted from Spar to retail group Centra as it provides the retailer with a better fit business model including a Hot Food / Deli / Coffee expertise, staff training and sales support.
Along with these services, the store will also offer Paypoint, Lotto and a Post Office. The site will provide more convenient parking to customers with over 30 parking spaces.
Gilford Road is a busy arterial road and Centra will command a high profile location which will service both residential housing developments and a number of schools.
Musgrave Retail Partners Centra Business Development Manager Brian Ross said: "I'm delighted that a well-established local businessman such as George has decided to open a new Centra store in Portadown. The Gilford Road site is a very exciting addition to the Centra retail group, providing a fantastic range of services to the local community.
"This latest Centra store opening brings a total of six new stores across Northern Ireland in the last six months, driving investment within the local economy," he added.
Musgrave Retail Partners NI (MRPNI) supports over 250 independent retail stores in Northern Ireland, including SuperValu, Centra and Mace, with a combined turnover in excess of £600 million. MRPNI is part of the Musgrave Group, the leading partner to more than 3,500 entrepreneurial retailers and food service professionals in the UK, Ireland and Spain.