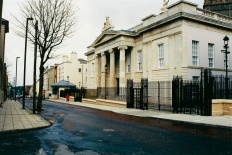 A 31-year-old woman, charged with a number drug offences including being concerned in the supply of cocaine, walked free from court today after it was revealed her convicted drug dealer ex-boyfriend had coerced her and used her as a "guinea pig" on "new substances" he was supplying.
Sharon Marie O'Kane, of Craigavole Terrace in Maghera, was ordered to do 200 hours Community Service after she pleaded guilty to a number of drugs offences, including being concerned in the supply of cocaine and cannabis, when she appeared at Derry Crown Court.
The offences, which also included the supply and possession with intent to supply a Class B drug, were committed between 8 May and 26 June 2012.
The court heard O'Kane's involvement in the drug trade emerged during a police investigation into her then boyfriend, Edward Gallagher.
Earlier this year, Gallagher (36), of Mullaghboy Heights in Magherafelt, was jailed for 32 months after he admitted possessing, possessing with intent to supply and being concerned in supplying cocaine between May 2012 and March last year.
He was arrested after police found drugs totalling between £25,000 and £47,000 in a car he had been driving on Highfield Road in Magherafelt on the evening of 9 June, 2012.
The police examined Gallagher's two mobile phones and found over 1,000 text messages relating to him supplying drugs.
At today's court hearing, a PSNI officer involved in the case said the only link to O'Kane's involvement in the drugs trade were mobile phone messages between the two.
The officer told the court that at the time, the defendant was a "drug user" and messages retrieved from her phone showed she was being controlled, threatened and coerced by Gallagher.
The court was told a number of the messages included threats from O'Kane to report Gallagher to police, although she never did.
The officer told the court police where satisfied O'Kane, who did not gain financially from her involvement, was no longer in a relationship with Gallagher who, he added, had used her as a "guinea pig" for "new substances" he had intended to supply.
The police witness added O'Kane was now "completely clear of drugs" and was a "completely different person" from the one he met initially.
A defence barrister told the court, the defendant's involvement was as a "direct result" of her relationship with Gallagher.
He added that while in that relationship, she developed a dependency for drugs but she had since "turned her life around," "addressed her demons in a considerable fashion" and had emerged from a "dark period" in her life.
Passing sentence, Judge Phillip Babington said it was "quite clear" the defendant was "totally dependent" on Gallagher.
He added: "If she had not been with Gallagher, she would not be here today, of that I am totally satisfied."
Ordering O'Kane to do 200 hours Community Service, Mr Babington told her if she had denied the charges and had been found guilty, she would have gone to prison.