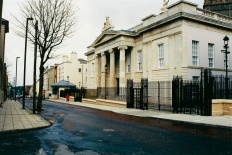 A 15-year-old boy charged in connection with an alleged sex attack on a teenage schoolgirl was today released on bail to allow psychiatric tests to be carried out on him.
The schoolboy, who cannot be named for legal reasons, faced a total of seven charges in connection with the alleged incident which occurred at Rathkeele Way in Creggan yesterday morning.
At Derry Magistrates' Court this afternoon, the teenager was accused of attempted rape, kidnap, two counts of false imprisonment, assault and touching the girl in a sexual manner.
Releasing the boy on bail so he could be examined by a psychiatrist, the District Judge ordered him to be electronically "tagged."
The boy is due back in court again tomorrow at which point the judge will be update on his medical state.