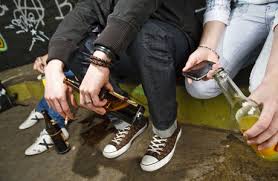 THREE young people found unconscious at an outdoor underage St Partrick's Day "drinking party" last night are lucky to be alive, police have said.
The youngsters were treated in hospital for the effects of alcohol consumption after being found in an isolated area near the golf club in Strabane.
The "party" was discovered after police carried out "a sweep" of the area based on information received.
One of the three – a 15-yearold girl from Lifford in Co Donegal – was also treated for the effects of hypothermia.
All three were among a group of up 60 youngsters attending a "party" that had been arranged through social media.
Strabane PSNI Chief Inspector Andy Lennon all three were lucky to be alive.
He added: "If was freezing cold and if police had not found these young people they could have died."
He said the young Lifford girl had a particularly lucky escape.
He said: "My concern is that if she had woken and walked in the wrong direction she would have went into the river."
During the incident police, backed up by a helicopter using a searchlight, search dogs and the local Community Search and Rescue, carried out an extensive search of the area to ensure no one else was lying unconscious.