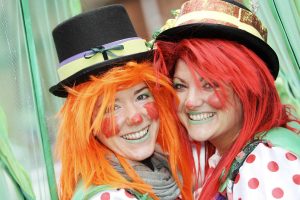 THOUSANDS of people, young and old, will be attending St Patrick's Day parades across Northern Ireland today.
Large parades will be taking place in Downpatrick, Omagh, Derry, Enniskillen and Armagh.
A huge parade took place in Belfast on Sunday which snaked its way from Belfast City Hall at 1 pm to Custom House Square for  concert.
The organisers of the Downpatrick parade have said they expect about 30,000 spectators to attend.
Its theme is 'world music and dance' celebrating St Patrick's Day as an international festival. The parade assembles at Ardglass Road at 13:00 GMT, departing at 14:30.
In Derry, 600 participants will leave the city council car park at 2.30 pm to take part in the parade themed on music, magic and myth.
In Omagh, an open air concert will be held between 1 pm and 4 pm and the parade will take place between 2 pm and 3 pm.
The main parade in Enniskillen starts from Lakeland Forum at 3 pm.
Organisers of the parade in Armagh are expecting 15,000 people to attend.
On Sunday, Lord Mayor Máirtín Ó Muilleoir hailed the city's St Patrick's Day parade as the biggest in years.
Thousands of people were in the city centre for the parade and a free concert.
The theme of the parade was St Patrick – Into The Future, with the saint depicted as a time-travelling adventurer.
The parade included floats, performers and music.
Among the floats was a Back to The Future flying DeLorean, and a Doctor Who Tardis.
Mr Ó Muilleoir said: "What we wanted to do was, because St Patrick's Day isn't a public holiday, let's have an event everyone can attend.
"All the schools are closed today, there are no places of work really open and I think it's paid off for us."
He added: "It's the biggest turnout I've seen in some years on St Patrick's Day, great colour, lots of green, and what really thrills me is that 700 young people, from right across the city, the Shankill and the Falls, are leading the carnival parade."