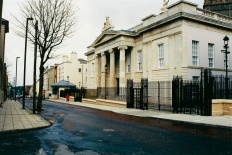 TWO 20-year-old men have appeared in court charged with the weekend hijacking of a van in which the owner of the vehicle sustained a serious facial injury.
Thomas Agnew (63) has undergone surgery in Altnagelvin Hospital after sustaining a broken cheekbone in the incident which occurred outside his De Burgh home in Derry at around 10.15 am on Sunday last.
His van was later found on fire in the Groarty Road area.
Appearing in the dock at Derry Magistrates' Court today, Ryan McGlinchey, of Benview Estate, Coshquin and Vincent Gill, Sackville Court, were both jointly charged with a number of offences including assaulting Mr Agnew in order to take control of his vehicle.
The are also accused of robbing Mr Agnew of his Peugeot van, driving whilst unfit and grievous bodily harm with intent.
Both are additionally charged with the attempted hijacking of a Vauxhall Corsa, dangerous driving, driving without insurance, assaulting the female owner of the Corsa, assaulting and resisting police, arson, failing to stop at the scene of an accident, failing to report an accident, failing to remain at the scene of an accident and having no driving licence.
McGlinchey is further charged with driving with excess alcohol while Gill faces an additional charge of failing to provide a specimen.
A PSNI detective constable told the court he could connect both accused to the charges.
The officer said McClinchey made "no comment" when the charges were put to him while Gill replied "I did f… all" when charged.
The court heard the charges relating to the attempted hijacking of the Corsa occurred 15 minutes prior to the assault on Mr Agnew.
The detective constable told the court a female choir member was in her car at Christ Church on Infirmary Road when she was approached by two men who told her to "Get the f… out of the car."
The court heard the two men ran off after the woman took the car keys out of the ignition and put them in her pocket.
Both accused were remanded in custody to Hydebank Young Offenders Centre in south Belfast to appear in court again on Thursday, March 27.