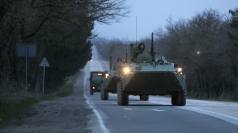 CRIMEA TV is reporting on Friday night that Russian soldiers have started to storm a Ukraine air-force base on the peninsula, ramming the gates with a truck.
It came hours after Northern Ireland-born ITV international correspondent John Irvine reported that Russians had advanced on the base which is a communications centre.
A Russian truck patrolled the base blocking signals, leaving the local commander cut off from his Ukranian defence bosses.