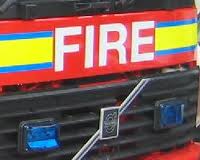 THE PSNI say a major incident at a Royal Mail depot in east Belfast was a false alarm.
Fire crews, paramedics and police were scrambled to the delivery office on Prince Regent Road.
It followed calls from the centre that two postmen who handled a package started to become "itchy".
Specialist fire service bio teams went into the premises following the reports about the "suspicious package".
The fire specialises in examining possible packages which may contain contaminated materials sent through the postal system.
After several hours at the scene, the fire teams emerged giving the building the all clear.
Police said the building had been evacuated for a time but staff were now allowed back to work as the incident was declared a false alarm.
In a statement Royal Mail said on Tuesday afternoon: "
A spokesperson for Royal Mail said: "An item of mail was found at our East Belfast Delivery office this morning which caused redness and itchiness to the hands of the two members of staff who handled it.
"The item was isolated and the fire and ambulance services were called to the scene. The item was subsequently declared non-hazardous.
"There is no impact on delivery services."
There has been heightened alerts in Royal Mail centres after a spate of letter bombs sent through the post in recent months by dissident republicans.
Last month, dissident sent letter bombs to army recruitment centres across the south east of England.