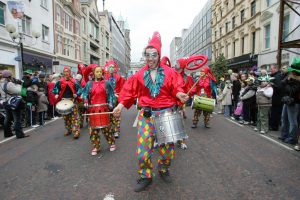 THE Northern Ireland Tourist Board (NITB) has put together a list of 10 exciting things to do in Northern Ireland over the next week (March 10-16).
For more details click on www.discovernorthernireland.com/events, visit your local tourist information centre or log onto http://www.facebook.com/discovernorthernireland
LegenDerry Food Festival, Guildhall Square, City of Derry, March 15-17. A three day food and family entertainment festival showcasing a feast of culinary talent as the biggest names in the Irish food industry arrive in the city, the festival will celebrate all that is local, offering live cook offs, demonstrations and family activities.
Féile an Earraigh 2014, Beechmount Leisure Centre, Belfast, March 14-16. Celebrating the best of Irish and International music, culture and the arts, Féile an Earraigh celebrates the run up to St Patrick's Day and will include three main gigs including Punk legends The Damned, Beoga and Lee Scratch Perry.
'Down the Quiet Loan', Sixmilecross Presbyterian Church Hall, Sixmilecross, Omagh, Co. Tyrone, March 14. A celebration event to mark the life and works of Rev W F Marshall, learn about the 'Bard of Tyrone' and be entertained with music and poetry from The Marshall Tenors, Sixmilecross Community Choir and others.
Spring Harvest Market, SS Nomadic, Belfast, March 16. Spring is in the air at this dock side market and enjoy the very best of artisan produce, flowers, hand crafted goods before hopping on board for a floral afternoon tea.
The Poet, The Piper & The Painter, Navan Centre & Fort, Co. Armagh, March 13. Celebrate the importance of poetry, piping and painting within Armagh's culture through award winning poet and playwright Noel Monahan, music from three of Armagh's finest young musicians and Armagh born painter J B Vallely.
Ted & Co The Dinner Show, Courtyard Theatre, Newtownabbey, Co. Antrim, March 15. A parody of the TV classic Father Ted the show will promise a hilarious and fun evening with the audience as the diners and Ted, Dougal, Jack and the housekeeper as the hosts, enjoy a delicious three course meal along with a good helping of old fashioned comedy.
34th Annual Enniskillen Drama Festival, Ardhowen Theatre, Enniskillen, Co. Fermanagh until March 15. A celebration of the best amateur drama with nine different drama companies stage plays over nine nights including a mix of comedy, tragedy, classical works and new writing.
The Building of the Titanic, Boys Brigade Ganaway Heritage Museum, Millisle, Co. Down, March 12-26. A display of photographs, tools, plans and artefacts relating to the construction of the Titanic and the men who built it.
St Patrick's Day Festival Concert, Market Square, Armagh, Co. Armagh, March 15. St Patrick's Day celebrations are underway in Armagh with the Festival Concert offering performances from the show-stopping Red Hot Chilli Pipers, local Irish Traditional band Castlestreet, Catherine Grimley & The McCuskers as well as an appearance by mentalist David Meade.
Molly Sweeney by Brian Friel, Millennium Forum, City of Derry, March 10-11. Brian Friel's rarely performed poetic tale is a journey of memory, hope and despair of Molly Sweeney, blind since infancy she is persuaded to have an operation to restore her sight.