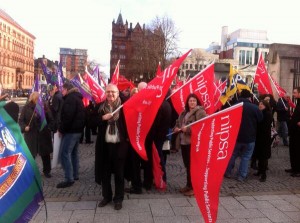 BELFAST City Council has decided to hold off on a final decision on outsourcing the operation of its leisure centres.
At a meeting on Monday, councillors agreed the move and to also give trade unions £10,000 to explore the possibility of in-house management.
They have been given six weeks to work on an alternative plan.
Unions protested outside the meeting. They fear outsourcing would lead to redundancies and changes to hours and conditions for 300 centre workers.
In a statement, NIPSA said: "The decisionm by Belfast City Council has now given us an opportunity to try to keep the delivery of our leisure services within the public sector."
"NISPA officials and staff will be doing their best to try to ensure that our bid is successful."
The union said £10,000 would be used to pay advisers to help them devise a plan in the best interests of staff while, at the same time, modernising the leisure services.
Last month, a council committee voted in favour of outsourcing the operation of city leisure centres by a margin of 10 to six.
The vote paved the way for major change that would see up to 300 leisure centre staff move to a new employer.
Ten leisure centres are currently operated by the council in the city.