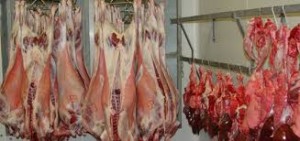 A CRIME task force has uncovered animals being illegally slaughtered for food following planned searches.
Local SDLP MLA Dominic Bradley said the discovery of the unlawful abattoirs were "deeply worrying".
The raid was carried out on land in Forkhill and Bessbrook in Co Armagh over claims that animals were being illegally butchered and then sent into the food chain without proper checks.
During the searches, a suspected illegal animal slaughter and meat cutting operation was discovered.
Police say a number of items have been seized for examination.
The PSNI, the Department of Agriculture, the Food Standards Agency and Newry and Mourne council are involved in the multi-agency raid
Maria Jennings, Food Standards Agency, said: "The information we have tells us that meat was being produced illegally, without official hygiene checks.
"We are currently investigating which businesses have been supplied with meat from the plant.
"We will provide further information once we have it."
Chief Inspector Davy Beck from Newry and Mourne police said the investigation was at an early stage.
He confirmed that the aim was to address agricultural crime and work with partner organisations to protect the safety of the food chain.
Police enquiries into this matter are continuing with partner agencies.
Anyone with information is asked to contact police in Newry on 0845 600 8000.
Local SDLP MLA Dominic Bradley said: "News of this investigation is extremely worrying and has caused anxiety among those in industry and among the population in general.
"Anything that calls into question the safety of the food chain is always concerning, especially in light of the horsemeat scandal. The fact several agencies are involved in this is all the more worrying.
"People want to be assured that the food they are eating is safe and it is important that we are made aware as soon as possible just what is involved in today's operation in relation to food-safety."