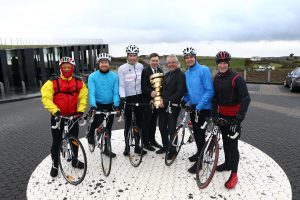 TUESDAY'S Giro d'Italia Hall of Fame event at the Giant's Causeway, organised by the Northern Ireland Tourist Board, attracted interest from a large group of cycling media from across the globe.
The cycling journalists came over as guests of the Northern Ireland Tourist Board and Tourism Ireland and couldn't resist the opportunity to get on their bikes and try out some of the Giro route.
The group braved the elements to ride the Causeway Coastal route and see for themselves the spectacular scenery that will feature on Day 2 of the Grande Partenza taking place 9-11 May.
Pictured outside the Causeway Hotel are cycling journalists from Italy, GB, Netherlands and Finland with NITB's Chief Executive Alan Clarke and Stephen Roche with his coveted Hall of Fame trophy.
The Giro d'Italia is supported by NITB and part funded by the European Regional Development Fund under the European Sustainable Competitiveness Programme for Northern Ireland.