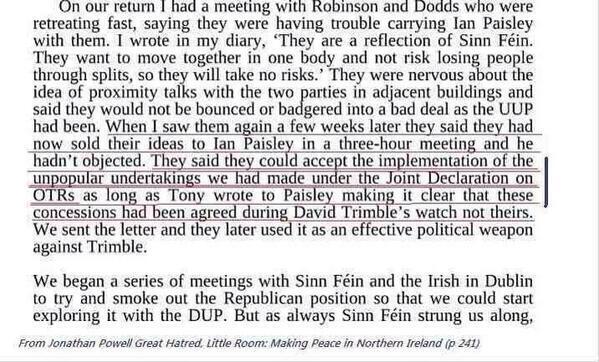 THIS is the passage from a political aide's memoir which could come back to haunt First Minister Peter Robinson.
The book claims that the DUP leader was fully aware of the secret deal with on-the-run IRA terrorists.
The memoirs were written by Jonathan Powell, who was chief of staff to Tony Blair who was Prime Minister at the time the 'grubby' deal was agreed.
Today, Mr Robinson, threatened to resign from the Stormont executive after a PSNI cock-up allowed a IRA London bomb suspect to walk free on murder charges.
The DUP MLA says he will walk out if there is not a judicial inquiry into revelations that secret letters given to over 180 Provisional IRA suspects.
Now it has emerged, according to Mr Powell, both he and his now deputy leader Nigel Dodds knew of the OTR deal.
Powell writes on the OTR issue: "When I saw them a few weeks later they said they had sold their idea to Ian Paisley (snr) in a three-hour meeting and he hadn't objected.
"They said they could accept the unpopular undertakings of the Joint Declaration on OTRs as long as Tony Blair wrote a letter to Paisley making it clear that these concessions had been agreed during (David) Trimble's watch and not theirs.
"We sent the letter and they used it as an effective political weapon against Trimble."
Earlier, during a series of television interviews, Mr Robinson said he was not prepared to remain as first minister in a power-sharing government and be "kept in the dark" about such an important matter.
The DUP leader's threat to quit followed the decision the collapse of the John Downey murder trial over the IRA Hyde Park bombings in London over 30 years ago.
The case collapsed because he was mistakenly told in a letter in 2007 that he was no longer a wanted man, despite the fact that the PSNI knew he was still being sought by Scotland Yard over the Hyde Park bombings.
However, despite realising their blunder, the PSNI never withdrew the letter from Downey.
On Wednesday, the Westminster coalition government revealed it had sent out 38 letters of exemption to terror suspects.
It said a total of about 200 such letters were distributed – mostly under the previous Labour government – to suspects "on the run".
The Northern Ireland Office has confirmed that all the recipients were republicans.
Prime Minister David Cameron told the Commons on Wednesday that Mr Downey should never have been sent the letter and that it had been a "dreadful mistake".
Mr Downey's lawyer said his alleged offences had been categorised as one of the on-the-run cases that would no longer be pursued in the light of progress in the Northern Ireland peace process.
Attorney General Dominic Grieve told the Commons on Wednesday that the judgement would not be appealed.
In an interview with the BBC, the First Minister called for all letters sent out to be rescinded and "full disclosure" of what had happened.
"I am not prepared to be kept in the dark by Her Majesty's government about matters relevant to Northern Ireland.
"I want a full judicial inquiry to find out who knew, when they knew and what they knew. I want to know who they are and what crimes they are believed to have committed."
He said he felt deceived by the government.
And he added that if he and former DUP leader Ian Paisley had known about the secret deal, the pair would not have entered into power-sharing government with Sinn Féin in 2007.
"I am not prepared to be a stooge for Westminster who keep secrets on matters which are now devolved to Northern Ireland," he said.
The DUP boss now plans to hold crunch talks with Secretary of State Theresa Villiers on Wednesday evening.
However his Sinn Fein partner in the Stormont Executive, deputy first minister Martin McGuinness told unionists "calm down".
In a Twitter message, the Sinn Fein MLA said: "My unionist colleagues need to calm down.
"We've all come a long way. No sensible person will thank anyone for threatening the institutions."
Earlier, the Police Federation branded the British Government deal with wanted IRA terror suspects as "grubby".