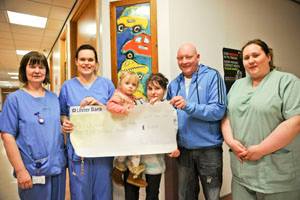 A kind-hearted woman has bequeathed £1,400 to the hospital unit which cared for her premature great-niece.
Monica O'Hara died on October 2.
Her great-niece, Aoife O'Hara, who was born premature weighing a tiny one and a half pounds, was cared for in the Neonatal Unit at Altnagelvin Hospital.
It was only after Monica's funeral in Ballykelly that her family realised she had set aside the cash for the unit that looked after little Aoife so well.
Aoife is pictured with her granny and granda, Moya and Conrad, presenting the cheque to Neonatal Staff Nurses Maureen Gill and Rosemary Devine, and Samantha Loughrey, Neonatal Auxillary Nurse.