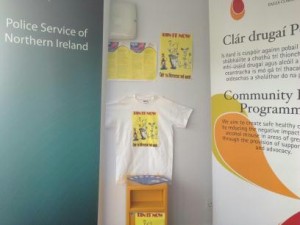 AS part of the RAPID (Remove All Prescription and Illegal Drugs) community safety initiative, a drug drop safe has been installed in the Falls Community Council Building to provide a mechanism for local residents to dispose of illegal drugs, unused prescription pills and legal highs anonymously.
Funding to facilitate the installation of the safe was provided by A District PSNI and the collective partnership which has included the Forum for Action on Substance Abuse (FASA), Falls Community Council, the local District Policing and Community Safety Partnership (DPCSP), local councillors and West Belfast Neighbourhood Policing Team have worked together to facilitate the installation of the safe.
Speaking at the launch of the initiative Inspector Michael White, Woodbourne Police Station said: "Drug drop safes are a successful way for drugs and harmful substances to be removed from the community.
"It provides a channel for individuals, whether they are concerned parents, grandparents, siblings or family members to dispose of items which they believe have the potential to cause harm, completely anonymously.
"Drug Drop Safes are located in places designed to offer anonymity to the person depositing substances. Drugs can only be deposited in the safe during the opening times of the venue. The safe will be emptied by police and substances removed may be tested prior to destruction to determine contaminants and to assess their toxic quality.
"All results will be reported back to the community at regular meetings."