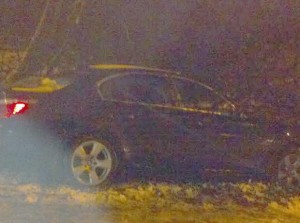 WITH more snow showers expected and temperatures predicted to dip below freezing, members of the public are being advised to to make only necessary journeys.
And those who do travel are being advised to drive with extra caution, especially on high ground.
In particular, motorists are being advised to avoid the "bywash" in the Rosemount area of Creggan Road in the city which is in treacherous condition and where a car has already left the road.
No one was injured when the black BMW slipped off the road into bushes.`
Forecasters are predicting more wintry showers tonight with widespread frost taking temperatures down to -2 °C.
After a cold, dry and sunny start, tomorrow will see cloud and rain with hill snow spreading up from the south late morning onwards.
It will become windy with gales or severe gales developing later in the day. Maximum temperature is predicted to be 6°C.
A Met spokesperson said: "The public should be aware of the risk of some travel disruption and difficult driving conditions."