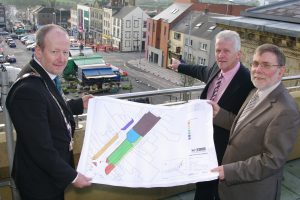 A major £2.3m scheme is on course to transform one of Tyrone's most historic towns by July, Dungannon & South Tyrone Borough Council have announced.
The Public Realm Scheme, which is funded by the Department for Social Development, aims to overhaul the town centre and Market Square area and has been carefully designed to minimise impact on residents, traders and visitors.
Work to improve the town's infrastructure and traffic circulation is at an advanced stage and, over the next six months, the installation of modern street furniture, lighting and landscaping features will complement the Council's recent development of Ranfurly House Arts and Visitors Centre and Hill of The O'Neill.
Mayor of Dungannon and South Tyrone Borough Council, Councillor Sean McGuigan, said: "The current project in Dungannon is Phase 1 one of a longer term regeneration plan for the town. Our overall aim is to make Dungannon an attractive place to invest in, live, work, shop and visit. This scheme is an important milestone in that journey of invigoration for the local area."
"We are thankful for the continued support from the Department for Social Development and it is clear that they share the vision to enhance our town. Their support to date has included a three-fold revitalisation project providing funding for shop front improvements; cover up treatments for vacant properties and the installation of free Wi-Fi in the town centre."
Dungannon town plays an important role within the Mid-Ulster region and is a hub attracting businesses, locals and tourists throughout the year.
Councillor McGuigan added; "Dungannon offers a unique visitor experience and is a great shopping destination for the whole family. This important project will transform the appearance of the town into a centre of excellence for the whole region."
The project is due for completion in July 2014 and traditional events and other activities will be accommodated throughout the duration of the construction period.