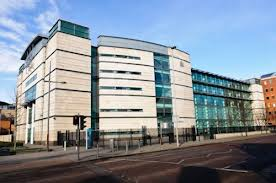 A convicted sex offender was jailed for nine months today for breaching the terms of a sex offenders prevention order (SOPO).
Ian Desmond Kernohan (27), c/o Maghaberry Prison, pleaded guilty to breaching his SOPO for the ninth time just hours after he was freed from jail last year.
A prosecution lawyer told Belfast Crown Court that on June 26, 2013, he was sentenced by Judge Corinne Philpott QC to five months in prison and and 25 months on licence for a previous SOPO breach.
However, with time served on remand, Kernohan, who is originally from Coleraine, Co L'Derry, was freed and was released from custody.
The court heard the following day he met his probation officer who reminded Kernohan of the terms of the SOPO and that he was not allowed to contact children or vulnerable adults either through internet or on Facebook.
"Four hours later he was in contact with a woman who we say is a vulnerable adult. This was done by way of a video call," said the prosecution barrister.
"In her statement to police she said that she had known him for five years and and had been his girlfriend in the past. She said that he had asked her to meet up with."
Kernohan was arrested by police on June 28 and admitted being in contact with the woman but denied knowing that she was a vulnerable adult.
Judge Donna McColgan QC was told that Kernohan had eight previous breaches of his SOPO and had a suspended sentence hanging over him for a previous breach.
A defence barrister said that the woman had contacted Kernohan through Facebook on June 11 but he only received the message following his release from jail on June 27.
He said the defendant had gone to an internet cafe on the Dublin Road and made contact with the woman.
The lawyer said that Kernohan had never been in any relationship with the woman, but had been in a relationship with her sister.
Judge McColgan QC said it was not the first time Kernhohan had come before the court with a breach of his SOPO.
"You have breached this SOPO over and over and over again. Her honour Judge Philpott convicted on you June 26 last year and sentenced you to five months in prison and two years and one month on licence.
"You broke that the next day despite the fact that you had a meeting with your risk manager and you said you fully understood the terms of the order."
The judge sentenced Kernohan to 18 months, with half in custody and the remainder on licence following his release from prison.
Judge McColgan also sentenced him to 18 months concurrent for breaching a previous suspended sentence, with nine months in jail and nine months on licence.