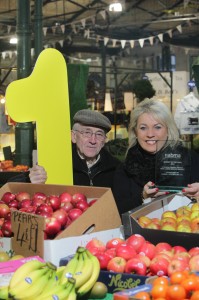 BY TIM HEDGLEY, TRAVEL EDITOR
ST George's Market has been named the best in the United Kingdom.
The Victorian facility, which is owned and operated by Belfast City Council, was awarded the title of 'Best Large Indoor Market' at the annual NABMA (National Association of British Market Authorities) awards in Birmingham yesterday (Thursday).
NABMA is the trade body which represents 700 local authority operated markets across the UK, and its annual awards are regarded as the most prestigious in the business.
The 'Best Large Indoor Market' is one of the most coveted titles, and the 2014 award the most keenly contested in the history of the competition, with St George's beating off internationally renowned markets such as Billingsgate, Borough and Spitalfields to lift this year's crown.
Reacting to the award, Councillor Deirdre Hargey, Chair of the Council's Development Committee, which oversees the Market, commented:
"This is a fantastic and well-deserved honour. We in Council are fiercely proud of the Market, and it is great news for us to see it recognised in this way by our peers in the markets industry.
"I would like to pay tribute to the Market staff for all their hard work, and in particular to the traders, whose dedication to St George's is the key to its continuing success."
Operating three days a week – Friday, Saturday and Sunday – St George's Market is home to more than 170 traders, some of whom have been there for several generations, as well as six shop units and a restaurant, and sustains 385 jobs.
It attracts approximately 600,000 visitors a year, generating an estimated £15 million per annum for the Belfast economy.
For more information, visit www.belfastcity.gov.uk/stgeorgesmarket