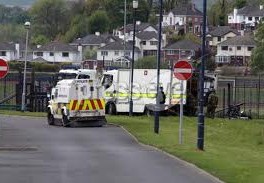 POLICE have evacuated around a dozen families from their homes in west Belfast as a result of a security alert.
It follows the discovery of a suspicious object close to a children's playpark at White Rise in the Lagmore estate at about midnight on Friday.
A community centre has been opened for anyone who had to leave their homes.
It was snowing as residents were moved and Sinn Féin councillor David Bell said it had been traumatic for them.
"From what I've gathered, the object was left where anyone could pick it up," he said.
"Obviously we have to find out if it's a viable device or not but, regardless, given the extremely cold night that people had to leave their homes – this is elderly people, and children – the people in the area are deeply frustrated."