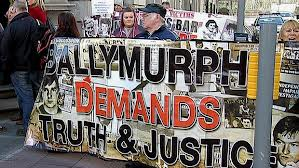 THE families of 11 people shot dead by the British Army in west Belfast over 40 years ago are taking their campaign to Europe.
They want an independent investigation to look into the killings which took place in the Ballymurphy estate in August 1971.
Among those shot dead by the Parachute Regiment were a priest and a mother of eight.
The families are going to Brusssels for an independent panel to investigate the deaths.
The killing took place hours after the British government introduced a policy of internment without trial.
The Parachute Regiment was involved in an operation in Ballymurphy to arrest people suspected of paramilitary activity.
The troops said they opened fire after they were shot at by republicans.
The priest, Fr Hugh Mullan, was shot as he went to the aid of a wounded man.
Last year, the Ballymurphy campaign group proposed that an independent panel would be chaired by the former Northern Ireland police ombudsman Nuala O'Loan.
They said they wanted the panel to examine all documents and papers relating to the deaths.
The group also wants an apology from the government.
The NIO has already turned down an inquiry saying told them it was "not in the public interest".