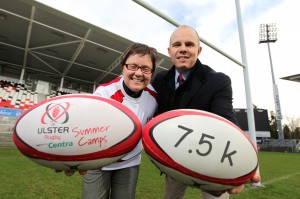 ULSTER Rugby has signed up local convenience store group Centra for a further year of sponsorship of its children's Summer Camps.
Centra has supported the popular Summer Camps since 2008 and since then almost 7,500 kids have taken part in camps that have been held in rugby clubs all over Northern Ireland.
The camps take place over a week between July – August for kids aged 7- 12, where they learn vital skills from fully qualified development coaches and receive a special training session from Ulster Rugby players.
Phillip Polack, Business Development Manager with Ulster Rugby said: "We really value the support that Centra has given us since 2008, in helping us develop and expand our outreach to young people who are interested in playing rugby.
"The figures speak for themselves, 7,450 kids taking part since 2008, with a bumper year last year of almost 1,800 kids up and down the country getting their taste of rugby.
"We are finalising the 2014 sessions at present, and we'll announce dates and venues at Easter so keep an eye on local press and the website," he added.
Nikki McDowell, Centra Brand Manager said, "This is the perfect partnership in terms of a 'right fit' for Centra as we have more than 80 Centra stores located all over Northern Ireland, which, along with the local rugby clubs are both an integral part of people's local communities.
"Many retailers attend the camps, lend their personal support and give out prizes. We are delighted to be playing our part in encouraging so many young boys and girls year on year to hone their skills or try something new, in a friendly and fun environment," she added.
Centra has also further cemented its relationship with Ulster Rugby by sponsoring the 'Half Time Rugby' for the rest of the season, where mini rugby teams get a chance to play at Ravenhill during half-time at Ulster home games.
Centra is part of Musgrave Retail Partners NI (MRPNI) which supports over 250 independent retail stores in Northern Ireland, including SuperValu and Mace, with a combined turnover in excess of £600 million. MRPNI is part of the Musgrave Group, the leading partner to more than 3,500 entrepreneurial retailers and food service professionals in the UK, Ireland and Spain.
For further information on Centra visit www.centra.co.uk or to like the Centra NI Facebook visit https://www.facebook.com/CentraNI