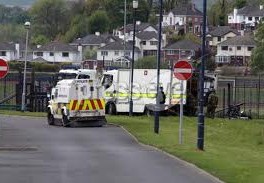 ARMY Technical Officers carried out a number of controlled explosions on a suspicious object.
Up to 30 residents were forced from their homes during the alert in Carrickfergus, Co Antrim on Sunday afternoon.
The ATO was was called to examine the object at Broadlands Gardens on Sunday.
Police said between 20 and 30 residents have been taken to a nearby leisure centre.