IT has been described as one of  the vilest animal cruelty cases ever seen by welfare officers at the USPCA.
On Monday, an east Belfast father and his two sons have admitted allowing a cat to be torn to shreds by dogs trained to fight.
Jeremiah Kirkwood (43) and his sons Christopher (23) and Wayne (20), who are all from Island Street, pleaded guilty on Tuesday to keeping four bull lurcher dogs for fighting.
They also admitted causing unnecessary suffering to four terrier cross puppies and to keeping equipment for use in animal fights, including a trap.
A co-accused, 19-year-old Jamie Edward Morrow from McAllister Court in Sydenham, east Belfast, admitted keeping or training a whippet cross Staffordshire bull terrier for fighting.
Detective Inspector Peter Mullan said the police investigation had taken over two years, beginning when video footage was recovered from a mobile phone.
It followed an investigation by BBC NI Newsline reporter Gordon Adair.
One clip showed dogs being set on a cat that had been trapped in a cage, tearing it to pieces.
In another, the same dogs were set on a badger.
The USPCA said the savagery inflicted on innocent animals by the Kirkwoods and Morrow was "wickedness at its worst".
Chief executive Stephen Philpott said it was "one of the vilest examples of premeditated abuse" the charity had come across in years and he thanked the PSNI for bringing the case to court.
He added: "This case warrants not only custodial sentences but cries out for life bans from owning or keeping any animal."
After the guilty pleas were entered at Belfast Crown Court, Judge Donna McColgan ordered that pre-sentence reports be prepared for all four men.
She agreed to release them on continued bail but said "this is no indication of the likely outcome of the case", which will be heard before the same court on February 21.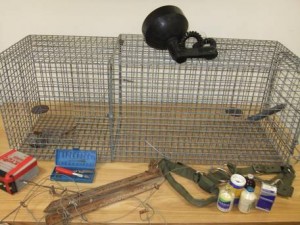 East Belfast MP Naomi Long said she was disgusted to learn of the case: "I have seen some of the footage which formed part of this case and it was horrific to say the least.
"By all accounts, it was one of the worst cases of animal cruelty brought to courts and it stuns me that people could be so callous towards the creatures involved.
"This kind of vile brutality towards animals should have no place in a decent society. I cannot comprehend the mind of a person who could bring themselves to partake in such appallingly cruel behaviour.
"I am pleased this barbaric practice has been stopped in this case and my thoughts are with not only the animals tortured and killed and their owners, but also with the dogs used in these attacks, as they too have been horrifically abused and brutalised."
Also appearing in the dock of the same court was Catherine Kirkwood, the wife of Jeremiah and mother of Wayne and Christopher.
The 43-year old originally faced the same charges as her family but a prosecutor told the judge and jury that the Crown would be offering no evidence against her.
Judge McColgan directed the jury to find Catherine Kirkwood not guilty of all the charges against her and when they were discharged, Kirkwood was told she was free to go.
Offences against animals, such as domestic pets, should be reported to the animal welfare officer in local councils.
Any suspected organised fighting offences should be reported to police on 0845 600 8000. Any concerns or information in relation to animal cruelty on farm animals should be reported to the DARD.