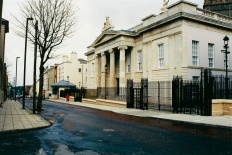 A man and a woman have been remanded in custody charged with the armed robbery of a chemist shop in the city last Friday.
David Anthony Comiskey and Elaine Donna Bradley, both aged 41, are jointly charged with robbing McKenna's Chemist in Derry's Great James Street of a quantity of prescription drugs.
Comiskey, of Chamberlain Street, is further charged with being in possession of an offensive weapon, namely a hammer.
Bradley, from Altcar Park in Galliagh, is also further charged with possession of an offensive weapon, namely a hammer.
A PSNI officer told Derry Magistrates' Court Bradley was recognised by a member of staff who had pulled a balaclava being worn by the accused.
The police witness said when Bradley fled the scene she was chased by the staff member who apprehended her. However, the staff member returned to the shop after the accused produced a hammer.
The court heard that during the incident, Comiskey produced the knife and ordered staff to hand over drugs.
The police witness said both accused ran off in different directions and a short time later police received phone calls from concerned members of the public about a man wielding a knife in the vicinity of the robbery.
The court heard both were arrested a short time later.
Opposing bail, the police witness said both accused had lengthy criminal records – Bradley 120 including three for drugs offences and one for possession of an offensive weapon, Comiskey 72, four of which were for burglary and three for drugs offences.
The PSNI witness said police opposed bail on the grounds of the serious and the gravity of the current offences and they feared for public safety and the possibility of interference of witnesses if the two accused were released on bail.
Refusing bail applications, Resident Magistrate Barney McEholm said the offences were "extremely serious" and the public would be put at risk with the possibility of further offences.
Both accused were remanded in custody to appear back a Derry Magistrates Court on 6 February next.