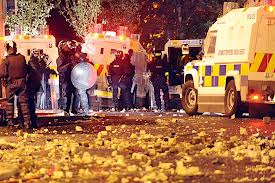 A west Belfast teenager was jailed today for six months over his involvement in a riot following a republican parade.
James Smyth (19) pleaded guilty at Belfast Crown Court to a single charge of rioting on Sunday, September 2, 2011.
More than 60 PSNI officers were injured during three nights of rioting on streets close to Carlisle Circus in north Belfast.
Trouble flared after a republican parade in the area by the Henry Joy McCracken bband.
Loyalists had objected to the parade going through the area without any restrictions imposed by the Parades Commission.
At the time of the riot, Smyth was aged 17 years and ten months.
Belfast Crown Court heard that Smyth, of Tennent Street, was spotted by police wearing a mask and throwing missiles at PSNI riot lines.
Judge Corinne Philpott QC was told that Smyth was also captured on police video "mooning" at riot cops.
The deputy Belfast Recorder said fortunately none of the missiles thrown by Smyth had caused any injury to police officers.
However, Judge Philpott said his involvement in "mooning" at police showed "how little you thought about yourself."
The judge added: "It was both embarrassing and offensive and it was done when there was young children about.
"Your behaviour was fool hardy and there is no doubt drink was involved."
Judge Philpott sentenced Smyth to 12 months, with six months to be be spent at Hydebank Young Offenders Centre and a further six months on licence following his release.