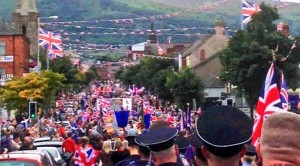 EXCLUSIVE: LOYALISTS are planning a showdown meeting on Sunday with Orange Order chiefs after secret talks with Sinn Fein were rumbled.
Belfast Daily revealed yesterday that the Orange Order was invited to two hush hush meetings with north Belfast Sinn Fein MLA Gerry Kelly.
However, on both occasions, the former Old Bailey IRA bomber failed to turn up for the talks.
But details of the meeting were uncovered on Thursday by protestors at 'Camp Twaddell' which was set up after the July 12 Ligoniel parade last year was banned from walking past the Ardoyne shop fronts.
They confronted local Orange Order leaders who confirmed that they had planned secret talks with Sinn Fein's Kelly.
Angry camp protestors contacted the Belfast Daily requesting we to expose the "Orange Order's treachery" fearing the end of 'Camp Twaddell" after five months.
A well-placed loyalist source has now told Belfast Daily: "A showdown meeting is being planned for Sunday in Ballysillan.
"I would expect it to be very hot and very heavy. The Orange Order is in for a rough ride.
"There are accusations and counter-accusations between the protest groups and the Orange Order.
"The women of 'Camp Twaddell" are fuming after being called liars but a lot of people on the ground are now starting to realise the Belfast Daily story is totally true.
"The Orange Order was using the cover of the Haass talks as an opportunity to trying and resolve the situation through a back channel."
Orange Order chaplain Rev Mervyn Gibson, who was part of the DUP's talks team at the Haass negotiations, was heavily involved in the proposed planned talks with a "courier" close to Gerry Kelly.
"The meetings were arranged and the Orange Order leadership walked right into this with their eyes wide open.
"The Orange Order was being tested and this has now exposed their treachery.
"It showed they were willing to trade with the devil behind the backs of the people.
"The Orange Order leadership can no longer be trusted.
"They tell the people at the camp one thing and then go and set up secret talks with Sinn Fein's Gerry Kelly.
"The DUP is also finished up here now too.
"They sided with the Orange Order over the talks behind the backs of their own people.
"The protestors feel totally betrayed now," added the source.