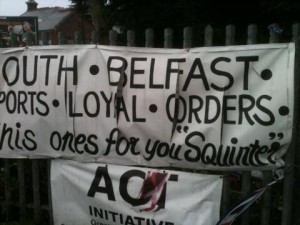 THE protest at 'Camp Twaddell' could be into its last days after a five-month stand-off.
Belfast Daily understands protestors have been left angry after they discovered the Orange Order was secretly in contact with Sinn Fein behind its back.
The discovery was made on Thursday, and according to well-place loyalists sources, the protestors fronted up the Orange Order leaders in the area last night.
"Twaddell is all but over now," said a well-placed source loyalist today.
"The leadership of the camp confronted the Orange Order last night and they admitted to two arranged meetings with Sinn Fein's Gerry Kelly who never turned up.
"After hearing that last night, most of the protestors have now decided to walk away as they feel they have been Judased by the Orange Order.
"Let's just say the Orange Order is in the s**t over this. People are extremely angry at the way they have been treated.
"They were told there would be no negotiations with Sinn Fein or anyone else until after the Ligoniel Lodge was allowed home by its normal route.
"People feel betrayed by the Orange Order."
'Camp Twaddell' was set up in July last year after the Ligoniel lodge was banned from returning to its area past the Ardoyne shop fronts.
Rioting erupted on the evening of July 12 after police lines blocked Orangemen and bands reaching the roundabout at the shop fronts.