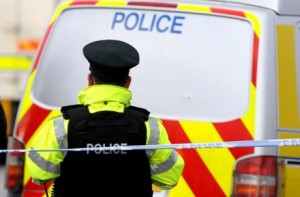 SIX people have been stabbed in a suspected domestic-related incident in Newtownabbey on Monday afternoon.
Two of the victims, a man and a woman, are said to be in a serious condition in hospital undergoing emergency surgery for multiple knife injuries.
Police have sealed off two houses at the bottom of Ballyduff Gardens on the loyalist Ballyduff estate after the attack.
The injured were rushed by ambulances to the Royal Victoria Hospital in Belfast for treatment to their injuries.
Two police cars and a PSNI van are at the scene of the semi-detached properties.
One local said: "One man was stabbed in the leg and a woman was also badly stabbed. The man and a woman were in a bad way when the ambulances arrived."
The houses at the centre of the stabbing was in darkness tonight as uniformed police officers kept the scene preserved.
John McPoland of the Northern Ireland Ambulance Service said: "Six casualties have been taken to hospital.
"It happened at a couple of different houses in close proximity.
"Two of them we would be concerned about. So we asked for medical teams at the RVH to be put on standy.
A PSNI spokesperson said: "A man and woman have been taken to hospital suffering from stab wounds.
"A number of other people are being treated by Ambulance Service cuts but their conditions are not known.
"An investigation into the circumstances is underway but police are not looking for anyone else in connection with the incident at this stage."
Earlier, two paramedic cars raced to the scene along with a PSNI vehicle following the stabbing incidents on the Ballyduff estate.