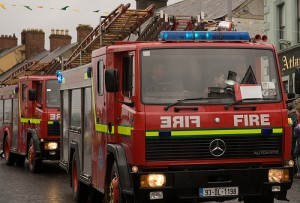 THREE men have been rushed to hospital following a house fire in the Republic.
The men were in the house in the Willowbrook area of Letterkenny, Co Donegal when the blaze broke out.
It is understood the men are suffering from smoke inhalation.
The incident happened around 5.30am this morning
A full investigation into the cause of the fire has been launched but it is understood the fire service are treating it as accidental.
One theory being examined is that a cigarette may have started the fire.
The fire started in the living room area of the house.
The men's injuries are not understood to be serious and they are expected to be released from Letterkenny General Hospital shortly.