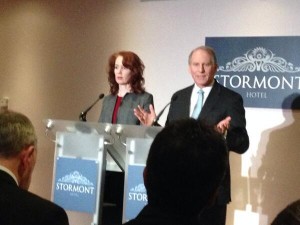 RICHARD Haass is cutting short his Christmas break to return to Northern Ireland to find agreement among unionists and nationalists.
The former US Diplomat has said he will leave "no stone unturned" in an effort to reach an agreement with the five Stormont Executive parties before Christmas.
Belfast Daily revealed on Monday that the main stumbling block among unionists was the Union flag who said it was "not for sale at any price".
If agreement can't be made before Christmas, Dr Haass will be back in Northern Ireland on December 27 to try and break the deadlock.
At a press conference on Friday, Dr Haass said: "We have made real progress on parades and the past.
"We shall see where we come out on flags."
On Sunday, he will hand over to the parties a third draft document before resuming talks on Monday.
Dr Haass said it would be "a real loss" if agreement could not be reached.
"Much progress has been made and much remains to be resolved. We are getting close to crunch time."
He said it was now up to the parties and "how much they want agreement and how intolerable they find the status quo."
Vice-chair Dr Meghan O'Sullivan said: "We're now moving forward in what we hope is the culminating period of the process."
She said there would be a very intense series of meetings in the next 36 hours and a new draft of proposals would be given to the parties on Sunday.
It was then hoped the process could be concluded on Monday.
The discussions centre on ways to deal with what have been called the "toxic issues" of flags, parades and the past.
Dr Haass had met the parties individually on Friday morning and round-table talks were held in the afternoon.
Dr O'Sullivan said if agreement was not reached by Monday, she and Dr Haass would assess the situation and make a judgement call about whether or not to return to run up to the 31 December deadline.
Speaking on Friday evening, Sinn Féin's talks negotiator Gerry Kelly was optimistic that the parties could come to agreement.
"Our view is that we can crack this before Christmas," he said.
"We all want to do it before Christmas. There is still work to be done. Each party is saying that the will is there, that will has to be tested."
The former US diplomat's first set of proposals were rejected by unionists earlier this week and led to Dr Haass and Dr O'Sullivan locking themselves away for 36 hours to prepare a new version, which was given to the parties on Thursday.
Unionists said on Thursday evening that they were unhappy with Dr Haass's second draft of proposals. Speaking earlier on Friday, the DUP's Jeffrey Donaldson said he believed agreement in the Haass talks before Christmas was unlikely.
Mr Donaldson, who is part of the DUP's talks delegation, said he thought further dialogue in the new year would be needed.
"I have to say there's still a few silly things in there that really do need to be taken out and there are still areas on which further progress is required," he said.
"We're prepared to work on for as long as it takes to resolve these issues because we recognise how important they are for the people of Northern Ireland."
Speaking on Friday evening, Ulster Unionist leader Mike Nesbitt said his party suggested that the flags issue be parked, to concentrate on parades and the past.
"We have a particular concern about dealing with the past," he said.
"We will not engage in or allow the rewriting of history. That part of the document could be a Trojan horse. It is about the rewriting of history and about the language which is being used or not being used."
Naomi Long, Alliance Party, said a resolution required imagination, generosity and strong leadership.
"The only question is whether the will is there to do it. It is very clear that the will either exists or it does not," she said.
"I don't believe that time is the issue… we know the level of commitment and flexibility required to do it. The issue is whether parties are willing to step up and do it."
SDLP MLA Alex Attwood said the decision to keep working suggested a renewed intent in the negotiations.
"If everybody applies good authority, their best judgement and imagination, then over the next 48 hours, maybe this process will mature somewhat further," he said.