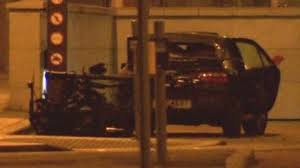 ANTI-TERROR cops have arrested two men over a botched bomb bid on a Belfast city centre.
Detectives from the PSNI's Serious Crime Branch detained the men aged 34 and 35 in north Belfast following an investigation of intelligence material.
They are currently are being held at the serious crime suite in Antrim for questioning.
On Sunday, November 24, the driver of a Renault Laguna car was hijacked in north Belfast by masked men.
He was forced to take a 130 lb bomb packed inside a beer keg to Victoria Street and abandoned it at the entrance to the Victoria Square Shopping Centre.
Only the detonator went off as Army technical officers were preparing to examine the car.