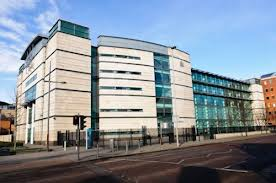 A man accused of spraying 'UVF' graffiti on an Alliance Party worker's car parking space has been freed on bail.
But Keith Armstrong, 48, of Leven Park, Belfast, was told not to contact party members or enter party offices.
He is accused of spray-painting the letters UVF on tarmac near an Alliance Party office in east Belfast on 5 December.
He faces charges of intimidation, criminal damage and motoring offences.
In court in Belfast, Mr Armstrong was given bail on condition that he stay away from Alliance members and their offices.
A police officer told the court that a member of staff who parked in the spot had increased his security measures because he felt intimidated and threatened by the graffiti.
Belfast Magistrates' Court was told that CCTV footage showed Mr Armstrong arriving at the scene on the Upper Newtownards Road in a car.
A PSNI constable said he was arrested nearby and told police: "It was just a stupid thing I did."
He said he found the spray paint in an alleyway and said his actions were not at the Alliance office itself.
Opposing bail, a detective said a campaign of intimidation against the Alliance Party had been going on since the union flag dispute flared a year ago.
She accepted there was no evidence that Mr Armstrong had been involved in any other alleged incident.
A defence solicitor said his client had never been linked to the flag demonstrations.
"These UVF marks were something like four-five inches, they are not the big slogans on the side of the wall," he said.