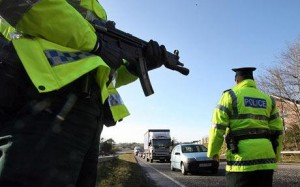 THE PSNI has revealed that almost 2,000 vehicles have been stopped at police checkpoints in an effort to stem the tide of dissident republican attacks in Belfast.
It follows an escalation in dissident republican attempts to bomb the city centre and also murder police officers.
Dissidents forced a man to transport a 132 lb beer keg bomb to the Victoria Shopping Centre near the law courts recently.
But only the detonator exploded while Army technical officers prepared to examine the Renault Laguna car.
Off-duty police officers have also been warned to step up their personal security for fear of an under car booby trap bomb murder bid in the run up to Christmas.
Last week there were two separate gun attacks on police patrols in north and west Belfast.
In north Belfast, police recovered a high powered Kalashnikov assault rifle after ten shots were fire on three police vehicles from a sniper who stood on a makeshift platform at Brompton Park in the Ardoyne district.
Intelligence suggests dissident groupings are constantly "switching tactics" to try and outwit police.
According to PSNI chiefs, more than 300 checkpoints were set up during the busy build- up to Christmas.
However, it is not affecting sales and shops report an increase in footfall and in the city centre.
City Centre PSNI commander Alan McCrum said: "Our vehicle checkpoints are much more sporadic but it is also unpredictable.
"The checkpoints are much shorter in length but they also have a significant deterrent effect so we achieve a greater balance between public reassurance and protection."
Police have set up 323 checkpoints to quiz drivers about their movements, passengers and anything in their vehicles.
According to police figures, a total of 1,784 vehicles have been stopped between November 25 and December 10.
Assistant Chief Constable for the Urban Region Will Kerr said: "There is a threat coming from dissident republican groups to the city centre and wider provincial towns.
"The only aim of terrorism is to cause disruption."
Covert surveillance units have also been deployed to try and prevent further planned attacks on the city.
The current threat level from dissdent republican terror gangs is described as "severe" meaning an attack is highly likely.