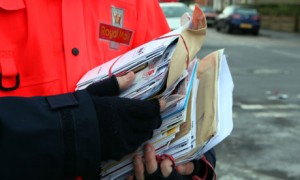 THE Royal Mail has issued the recommended last posting dates for Christmas mail.
It is designed to help customers send mail and parcels on time to avoid disappointment
The recommended dates are:
:: Friday 20 December for 1st Class items
:: Wednesday 18 December for 2nd Class items
:: Monday 23 December for Special Delivery items
The remaining recommended International posting dates for 2013 are:
:: Monday 9 December for airmail to Cyprus and Eastern Europe
:: Tuesday 10 December for airmail to Canada, France, Greece, Poland
:: Friday 13 December for airmail to USA
:: Saturday 14 December for airmail items to Western Europe (excluding France, Greece, Poland)
Customers can also help Royal Mail ensure that all their letters, cards and parcels are delivered as quickly and efficiently as possible by taking a few easy steps:
:: Use a 1st Class stamp – Post 1st Class for just 60p and have your Christmas card delivered the next day – anywhere in the UK.
:: Post early – Avoid disappointment by posting your cards and parcels early. The last posting dates this Christmas are: December 18 for 2nd Class mail; December 20 for 1st Class mail; December 23 for Special Delivery.
:: Use a postcode! – A clearly addressed card or parcel, with a postcode, and return address on the back of the envelope, will ensure quick and efficient delivery.
:: Use Special Delivery – For valuable packages and parcels guarantee delivery with Royal Mail's Special Delivery, which means your gift is tracked, traced and insured against loss.