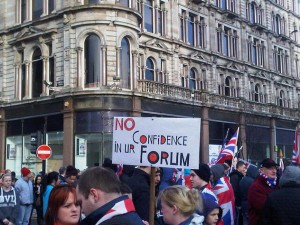 POLICE have charged a 17-year-old boy with disorderly behaviour.
He was arrested during at a small flag protest in east Belfast on Tuesday night.
Police said a number of demonstrators had to be moved off the road in the Castlereagh Street area.
The teenager was detained in the area on suspicion of disorderly behaviour at around 8.20 pm.
A large number of police in riot gear were deployed to the east Belfast interface to prevent any trouble erupting between protestors and local nationalist youths.
The boy was charged with the offence on Wednesday morning and will appear before Belfast Youth Court on 30 December.
There was also a flag protest held earlier at Belfast City Hall.
It was to mark the first anniversary of the council decision to only fly the Union flag on designated days.