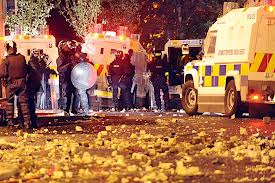 A Newtownabbey man was jailed today (Friday) for four months after he pleaded guilty to rioting in north Belfast at a republican band parade.
James Mason (28) spent four hours at Carlisle Circus as part of a large loyalist crowd during the riot on September 2 last year.
Belfast Crown Court heard that Mason, of Queens Drive, was captured by police cameras wearing sunglasses and a green top with the hood up "in an attempt to disguise his appearance".
A prosecuting lawyer said that on three occasions Mason was seen throwing stones at nationalist youths and was also recorded on film helping to break up masonry which had been brought into the area in wheelie bins.
At one point Mason climbed a fence into the Hopelink Centre at Carlisle Circus and was seen gesturing to others to join him.
The court heard the defendant was also caught on CCTV recording the riot on his mobile phone.
Judge Corinne Philpott QC was told that two police officers on duty identified the suspect as Mason. He was later arrested and admitted his involvement in the riot.
A defence barrister said Mason had gone to north Belfast to protest over the republican band parade.
However, he said he lifted a stone thrown from the nationalist side and "retaliated".
Judge Philpott accepted Mason's actions were initially retaliatory.
"He didn't start the stoning. But instead of going home or taking himself off, he stayed for four hours as if he was up for the fight."
The judge sentenced him to him eight months, with four months in custody followed by the remainder on licence.