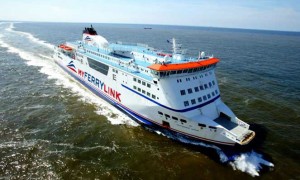 THE run up to the festive season can be a stressful time.
But Northern Ireland's leading ferry company believes everyone deserves a break this Christmas and that taking the ferry instead of flying will take the strain out of travelling.
Travelling with Stena Line means passengers won't have to worry about squeezing Christmas presents for their loved ones into their suitcases or taking their clothes off when they pass through security, excess baggage charges, long queues at check-in or cancelled travel plans due to snow.
Instead passengers will have a more enjoyable travel experience with shorter check-in times, plenty of leg-room, great food, lots to do onboard and shopping at their leisure with great savings of up to 40%* on last minute Christmas gifts and treats.
Diane Poole OBE, Stena Line's Head of PR & Communications said: "The lead up to Christmas is a very busy time with people rushing about to get everything sorted.
"But at Stena Line, we are on hand to take some of the stress away by providing a hugely enjoyable travel experience ensuring passengers have a much needed rest as they sail across the Irish Sea, arriving refreshed for the onward journey and ready to start their festive break on the right note.
"By taking the car, you don't have to worry about the high cost of airport parking or excess baggage charges as you can fill your boot with all your outfits for festive parties as well as Christmas presents, big and small, for your loved ones.
"When travelling by ferry, passengers can bring their furry friends so they can join in the celebrations too," Diane continued.
"The festive celebrations start as soon as passengers step onboard with kids play areas to keep the little ones entertained, free Wi-Fi and festive movies and wonderful dining options.
"With great value fares from only £99* single for car and driver, travelling with Stena Line will ensure you arrive relaxed and ready to celebrate the festive season with family and friends," Diane added.