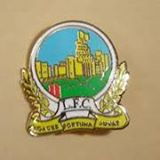 IT'S the mouth-watering clash of the Danske Bank Irish Premier league this weekend.
Holders Cliftonville host current league leaders Linfield at Solitude (kick off 3 pm).
And ahead of the clash Linfield FC have issued a stern warning to any fan heading to the game and planning on misbehaving.
The club says it wants fans to enjoy the game, support their team and maintain a high standard of conduct throughout the game otherwise the club will be punished for the actions of a "small minority".
In a statement, the club said: "Linfield supporters attending tomorrow's game are urged to support the team in a positive, enthusiastic manner in keeping with the highest standards of our club's support.
"Supporters are encouraged to support the team in a manner which would not cause offence to the cultural background of ANY of our players.
"On previous occasions this club has suffered, not just financial penalties but also unwanted damage to our proud name and reputation, as a result of the misguided actions of a very small number of people who claim to support this club.
"This club is anxious to avoid any further financial or other consequences and Linfield is also anxious to ensure that the proud reputation of the overwhelming majority of our supporters is not damaged by the actions of a tiny minority.
"Linfield Football Club is totally opposed to sectarianism which has no place in the game we all love.
"Hopefully, tomorrow will be remembered as being a great occasion and a positive result to further enhance our position at the top of the league table."