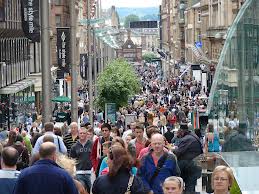 NORTHERN Ireland is a nation of eager shoppers who love to enjoy the magical festive atmosphere that Christmas brings, according to research carried out by Glasgow City Marketing Bureau (GCMB).
The results of the research offer a range of insights into the shopping habits of NI consumers. 36% of people surveyed stated that they start to think about buying gifts early and that, far from seeing Christmas as a stressful time of year, they look forward to all the experiences and activities that Christmas brings – with ice skating, carol singing and visits to Christmas markets topping their list.
The survey also revealed that NI is a nation of thoughtful shoppers, with over 50% of respondents saying they like to carefully pick out presents to ensure they buy really meaningful gifts for their loved ones.
Being a thoughtful shopper does not necessarily equate to browsing however as 39% of those surveyed revealed that they like to get in and out of shops as quickly as possible.
This year, GCMB is encouraging NI consumers to make the short journey over to Glasgow to get their Christmas shopping all wrapped up while soaking up the magical Christmas atmosphere the city has to offer.
To help visitors make the most of their festive visit to Glasgow, GCMB has devised a definitive Glasgow Christmas Shopping Guide (peoplemakeglasgow.com/christmas-shopping) which will help NI shoppers navigate their way around Glasgow and find the retail areas most suited to their own shopping style.
Paul Mitchell, Chair of the Glasgow City Centre Retail Association, explains why the Glasgow Christmas Shopping Guide is the definitive source to find that perfect gift in Glasgow this Christmas.
"The Glasgow Christmas Shopping Guide is the ideal way for visitors to ensure they get the very best from their visit to Glasgow this festive season.
"Glasgow offers an unrivalled retail experience which is perfect for all types of shoppers.
"From those who plan each gift meticulously to those of us who tend to leave it to the last minute, the guide maps out the very best options for a range of shopping tastes.
"Glasgow is Scotland's largest city with over 1,500 shops which is why we are delighted to be consistently voted the top place to shop in the UK outside of London's West End**".
Despite the fact that a lot of people plan ahead, for some last minute anxiety is still a feature of the festive period with 18% of NI consumers stating that they spend Christmas Eve in the shops desperately searching for gifts.
The Glasgow Christmas Shopping Guide has been designed to help take the stress out of Christmas on a break to Glasgow, and also show visitors the best spots to enjoy a range of festive events to enjoy in between that all-important retail therapy.
To keep up to date with the latest Glasgow news and events, and to sign up for the monthly newsletter, visit www.peoplemakeglasgow.com or follow People Make Glasgow on Facebook www.facebook.com/peoplemakeglasgow or Twitter @peoplemakeGLA or #peoplemakeglasgow.