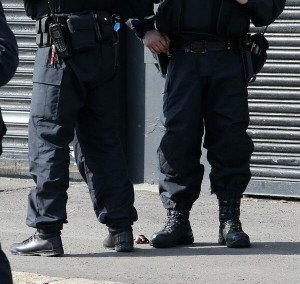 THE security forces have carried out a search operation in the Ardoyne area of north Belfast in the hunt for a second bomb.
Police, Army technical officers and a team of forensics were involved in the extensive search operation following Sunday night's botched bomb attack in Belfast city centre.
Only the detonator went off failing to ignite a 132 lb beer keg bomb which was driven to the Victoria Centre's underground car park entrance by owner of a hijacked taxi.
Masked men dressed in boiler suits ordered him to take the bomb to the centre around 9.30 pm.
The Renault Laguna hatchback car was damaged but fortunately no-one was injured.
On Tuesday morning, police cordoned off Jamaica Street, Ardoyne, where the driver's car was hijacked on Sunday evening.
Detectives from the PSNI's Major Investigation Team carried out door-to-door enquiries.
PSNI officers inspected the underside of vehicles and behind garden fences during the operation which lasted for several hours.
A PSNI spokesman said: "Police carried out a search operation in the Jamaica Street area of north Belfast in relation to the investigation into the explosive device at Victoria Street on Sunday 24 November."
The explosion was the first car bombing in central Belfast for a decade and dissident republican paramilitaries have been blamed for the attack.
Belfast Daily first revealed yesterday that police were stepping up security in and around the city centre to thwart further attacks.
Both overt and covert patrols were being mobilised to prevent bombs being driven into the city from north or west Belfast.
A 12-strong MI5 surveillance team using unmarked cars, a Ford Transit van and a motorbike have also been deployed in an around the city centre to watch for "suspicious vehicles" coming in from north and west Belfast.