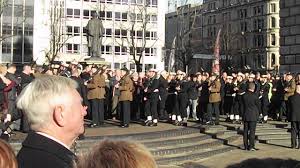 FIRST Minister Peter Robinson has laid a wreath at the Cenotaph in Belfast City Hall to mark Remembrance Sunday.
Wreaths were laid at 11 am on Sunday morning. This was followed by a two minutes silence.
The Republic's Tanaiste Eamon Gilmore also laid a wreath one behalf of the Irish Government.
Veterans from two world wars were among those who also laid wreaths including members of the Royal British Legion.
Wreaths were also laid for members of the armed forces who have died also in Northern Ireland, Afghanistan and Iraq.
The Republics's Taoiseach Enda Kenny laid a wreath at the Cenotaph in Enniskillen, the scene of the horrific IRA bomb horror in 1987.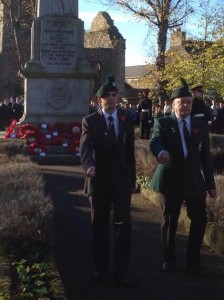 Also laying wreaths in Belfast were Belfast's Deputy Lord Mayor Christopher Stalford, the Lord Lieutenant of Belfast Dame Mary Peters and Secretary of State Theresa Villiers
Services have also taken place in towns and cities across Northern Ireland to remember those killed in the two world wars and other conflicts.
In London, DUP deputy leader and North Belfast MP Nigel Dodds laid a wreath at the Cenotaph.