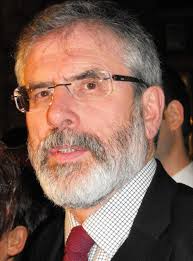 SENIOR republicans have criticised the BBC over its documentary about The Disappeared, broadcast last night.
The heart-breaking documentary focused on the lives of many of those left behind after the Provos murdered their loved ones and secretly buried them during the 1970s.
Senior republican sources said today they had "no problem" with the issues raised in the documentary in relation to the deaths.
However they have criticised the BBC/RTE production for failing to clarify why Sinn Fein leader Gerry Adams cannot admit membership of the IRA.
"All they needed was one line," said a senior republican figure today.
"Everyone knows Adams cannot admit membership of the IRA. If he did he would be arrested and could go to jail.
"That's the legal argument, and that doesn't go into how such admissions are viewed by republicans."
Another senior republican was also critical of the interviewees.
"They are all critics of the Sinn Fein peace process strategy," he said.
"I'm not taking away from the tragedies but the documentary should have made it more clear that Dolours Price and Brendan Hughes had taken anti peace process positions. They were hardly impartial witnesses."