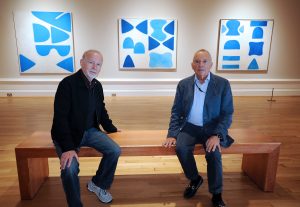 A MAJOR exhibition of work by the internationally acclaimed modern painter, William Scott, will open to the public tomorrow, Friday, October 25, at the Ulster Museum.
The William Scott exhibition is the culmination of yearlong celebrations held across the UK and in the USA to mark the centenary of the renowned artist's birth.
The exhibition will be opened by his two sons, Robert Scott and Oscar-winning director James Scott, who travelled from California to attend the opening.
The most extensive William Scott exhibition yet, it covers all periods of Scott's career from the early 1930s to the 1980s.
It includes some of the artist's most famous works including Still Life with Orange Note and radical 1952 work The Harbour and combines paintings, sculptures, prints and photographs.
During a career spanning six decades, Scott produced an extraordinary body of work that has secured his reputation as one of the leading British painters of his generation.
Exhibiting across Europe and America from the early 1950s, Scott is renowned for his powerful handling of paint in his exploration of still life, landscape and nude.
National Museums Northern Ireland's Curator of Fine Art, Anne Stewart said, "This superb exhibition is a wonderful way to commemorate, and indeed celebrate, an exceptional artist whose fresh style and unique approach has left a legacy.
"Of course, it is particularly special to hold this exhibition at the Ulster Museum considering Scott's strong links to Northern Ireland, spending his childhood in Enniskillen and teenage years at Belfast School of Art.
"The exhibition has been curated to follow a chronological order so visitors can journey with the artist from pre-war, to a high point in his career in 1958 when he represented the UK at the Venice Biennale right through to his later works which were deeply figurative."
Robert and James Scott added; "We are delighted to see this exhibition of our father's work come to Ulster, in this, his Centennial year. It is after all, here in Ulster, that he first set out to become a painter.
"This is the largest exhibition of his work to be seen in Belfast for over 25 years, we feel that it is very fitting that his work can be seen once again ".
The new William Scott Catalogue Raisonné (published by Thames and Hudson) will be available to view at the museum. The William Scott Foundation has published a new 112 page catalogue, 'William Scott – Centenary Exhibition', showing all works exhibited throughout the touring show this year, to coincide with the Ulster Museum exhibition launch. The catalogue will be available from the museum shop.
The exhibition has been developed in collaboration with Tate St Ives and The Hepworth Wakefield, with the support of the William Scott Foundation.
The William Scott exhibition runs until 2 February 2014 and will be accompanied by a series of events including workshops, lectures, film showings and tours. A 'Scott Study Day' will take place at the Ulster Museum on Friday 25 October with many key speakers including Chris Stephens from Tate, Anne Stewart from the Ulster Museum, Prof. Michael Tooby from Bath Spa University and Lucy Inglis from The William Scott Foundation. James Scott will introduce a showing of his film, Every Picture Tells a Story, based on stories of Scott's childhood.
Admission to the exhibition is free of charge. For further information visit www.nmni.com <http://www.nmni.com/> /um