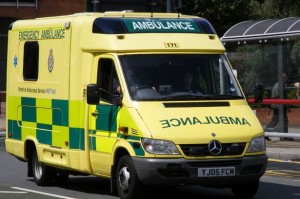 PARAMEDICS who risked their own lives to rescue a man from a smoke-filled house have been praised for their actions.
The incident occurred in a terraced house in Garag Hill, Castlederg, Co Tyrone, at 11.15pm on Sunday night.
A pot left unattended in the kitchen went on fire. Details of the paramedics' actions have just been released.
When the ambulance crew arrived they were met by a number of neighbours who had heard the smoke alarm and were concerned there was someone was in the house.
The crew saw that the hallway was filled with light smoke and called out to the occupant.
When they received no response, and fearing the patient was in danger, they entered the building, not knowing if they were to be met by a fire.
They found the patient asleep in one smoke filled room and the kitchen filling with much thicker and darker smoke.
They turned off the appliance and ventilated the house by opening windows while removing the patient from the building.
The Fire and Rescue Service arrived shortly afterwards to complete the ventilation process.
The paramedics treated the patient at the scene for smoke inhalation.
However, he chose not to travel to hospital for further treatment.