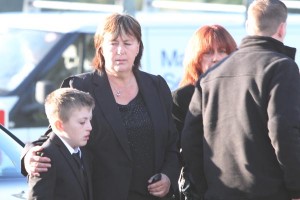 AROUND 200 people have attended the funeral of Derry murder victim Barry McCrory on Tuesday morning.
Mr McCrory was shot dead by a lone gunman in flat in Shipquay Street on Thursday morning last.
Speaking at the 35-year-old man's Requiem Mass in St Joseph's Church, Galliagh this morning, Fr Michael McCaughey said there was no justification for the killing and Mr McCrory was a devoted father and loving son.
Earlier, around 50 people accompanied Mr McCrory's remains from the family home in Cornshell Fields in the Ballyarnett area to the church.
Mr McCrory is being laid to rest in Derry City Cemetery.
Mr McCrory had over 100 criminal convictions in the courts and speaking yesterday his other, Ann, said he was "not the worst of the worst" and hoped he was "in heaven."
A massive manhunt is currently underway for Kieran McLaughlin (58), the man who police say they are keen to speak to in relation to the killing.
Yesterday, the detective leading the investigation into the killing, Chief Inspector Ian Harrison, made a direct appeal to McLaughlin to hand himself in.
Revealing the wanted man's family were supporting the police appeal, DCI Harrison told McLaugfhlin that a "safe ease of passage" would be available to him if he came forward.
This morning, police in the city revealed over 100 officers were involved the hunt for McLaughlin who is believed to be armed and that police forces in England, Scotland and Wales had been notified to be on the look out for the 58-year-old.