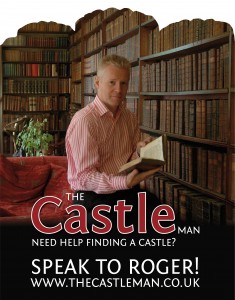 BY TIM HEDGLEY, TRAVEL EDITOR
BELFAST-BORN entrepreneur, who specialises in providing online castle accommodation through www.celticcastles.com, is setting his sights on conquering the travel industry as the business marks its fifteenth anniversary and celebrates record growth.
Celtic Castles founder and director Roger Masterson, known as 'The Castle Man', a former pupil from MCB in Belfast, pursued careers in retail management and publishing, prior to setting up his own business, having being disappointed from a company brochure selling croft and castle holidays.
Roger spent 18 months searching for castles in Scotland and started to promote four properties as he tested his business model.
It worked!
Having built his company by recognising the power of the internet in the late 90s, Roger now employs a 12-strong team and offers accommodation in more than 90 unique and stunning castles across the UK, Ireland and France.
As the business accelerates, its goal is to further build on its leading global travel brand.
Masterson attributes his success to three factors: hard work, a great team and knowledge of the individual castle properties…..and yes, he has slept in them all!
Said Masterson: "It is an absolute privilege to work in this tourism niche and have a team of experts who can locate the right castle experience for our global client base.
"We celebrate great customer feedback within the team and it is our level of service and the fact that we stay, holiday and visit the castles regularly that helps our customers pick up our passion for the experiences these properties can offer."
Masterson, 'The Castle Man', has also been able to increase brand awareness via TV and radio and has hosted programs such as Jaw Dropping Rentals, showing American customers the interiors of castles in Scotland.
He also works with film location companies finding castles and stately homes for period and reality US TV shows.
A question he always gets asked is which is his favourite castle and his answer as you can imagine has to be diplomatic.
He has slept in over 157 castles and is not afraid to tell customers if a castle is displaying 4 stars on the door but only offering a 3 service. This is probably why customers trust his feedback.
When pressed again, he says, "Every castle offers it own magic; they are all unique."
It may be a public room, a specific bedroom or an eccentric castle owner or even a great chef that gets him overly-enthusiastic and sharing a few stories.
"It was my daughter's 10th birthday last year and she wanted to be a princess in a castle. Since we were back home in Northern Ireland at the time, my choice was for her to be a princess at Ashford Castle in Mayo. We had dinner in the George V Dining Room, one of the premier castle restaurants in Ireland. For me, castle stays are all about the memories they give you for ever."
You can read more about Roger and the team's experiences in castles throughout Ireland, the UK and France on their blog at www.celticcastles.com.