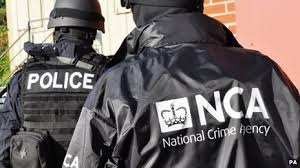 A NEW UK-wide 'FBI-style' policing agency has been launched on Monday.
But the National Crime Agency won't be able to operate in Northern Ireland after the SDLP and Sinn Fein blocked it from getting powers to work in the province and recruit agents.
Justice Minister David Ford says for that reason it will place an extra burden on the PSNI whose resources are stretched over parading issues, tackling organised crime and the activities of dissident republicans.
The Alliance Party leader the move not to give NCA operating powers in Northern Ireland was a mistake.
"I haven't lost hope that we will get full political agreement, that we will be able to see the NCA operational and discussions are ongoing to see if we can get that political agreement," said the Justice Minister.
"In the meantime, the key problem is that in certain issues like child exploitation, like human trafficking, like serious organised crime which is operating in the devolved area, there will be no powers for the NCA and this will place an additional burden on the PSNI.
"In the face of that the police do not need extra burdens placed on them when there's a fully equipped national agency able to carry out those duties," he said.
"I visited the Serious Organised Crime Agency last week and I know that some of their staff have already been diverted in support of operations in England and Wales because in effect there's less for them to do because the PSNI is having to take over issues here."
The NCA, headed up by Keith Bristow, will target crime gangs across local, national and international borders.
He will be directly accountable to Home Secretary Theresa May for the agency's actions – not to the chief constable of the PSNI, the Policing Board or the Police Ombudsman.
Many of the policing powers being given to the NCA have been devolved to the Northern Ireland Assembly; therefore it has to agree to give Westminster authority to exercise those powers.
These include NCA officers being given:
– the powers of a police constable in Northern Ireland;
– the authority to carry out searches and make arrests;
– the ability to conduct surveillance operations;
– the ability to recruit and run informers and agents.
The agency would also be responsible for recovering assets from criminals.
The PSNI are also frustrated that the NCA can't operate in Northern Ireland as it tries to stem the tide of international criminals.