BY TIM HEDGLEY, TRAVEL EDITOR
LIVING on an Island means that to get to mainland Europe with a car, we have to take a boat.
As the Ireland–England tunnel has not yet been started, although it has been suggested, as has a bridge to Scotland, but for the present we are have to use sea travel for the foreseeable future.
I have done the Belfast to Stranraer, Hull to Zeebrugge and the Cork to Roscoff routes, but I have never done the Dover – Calais route. At the end of August I decided I would try a different tack so to speak, and tackle the route to Europe via Dublin, Holyhead and Dover with a new Ferry company who are just on the market.
Stena line Super Service
My first step on board was with Stena line from Dublin, (www.stenaline.ie) I got the 08-30 sailing from Dublin over to Holyhead, I took the conventional ferry, which takes about 3 .15 min. I paid the extra €30 to access the Stena Plus Lounge where I was able to sit back and truly relax. The lounge is included as part of Stena's premium fare, along with express boarding and disembarkation, but I just decided to upgrade when I was on board.
Comfort
The Stena Plus lounge offers a range of comfortable seating including leather sofas, and a choice of cosy chairs, so you can find the area which is just right, whether you want to relax and enjoy the great sea views, catch up on the latest news or check–in on your e–mails with your laptop using Stena's free Wi–Fi.
Also included in your 15-euro cost, are:
*Use of the Stena Plus lounge with its comfortable seating
* A choice of complimentary refreshments, including premium coffee and teas, soft drinks, wines and tasty snacks
* An extensive choice of complimentary daily newspapers and magazines
* Power points for laptops and game consoles
* Touchscreen PC's *
* Complimentary use of Apple i-Pads **
* Dedicated waiter service with an exclusive menu
* Satellite plasma TVs
* Dedicated family zone with Playstation 3 **
* Free Wi-Fi
* Dedicated Stena Plus restrooms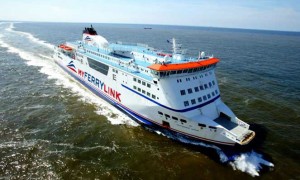 To help maintain the relaxed ambience in Stena Plus, children and infants less than 8 years old are not permitted. There is little doubt that Stena Plus is an extremely enjoyable way to add that little extra to your crossing. Stena Line, as the world's leading ferry company and biggest ferry operator in Europe, offers the largest fleet as well as the widest selection of routes and destinations to choose from (with the exception of France) and travelling with them is always a great experience. If its good enough for Dom Jolly its good enough for us
With great value fares and a fast, comfortable ferry travel service to Britain, you can sit back, relax and enjoy a stress-free trip with excellent service on board their ultra-modern fleet. Why not take the car and enjoy the freedom and flexibility of going where you want at your own pace? What's more, with no baggage restrictions, you can take everything you need at no extra cost! Stena Line also offers a range of great value hotel breaks, self-catering and land bridge holidays to Europe check out. www.stenaline.co.uk
Once I had disembarked and having done the M6 motorway over "Shap" from Scotland before, I found the view across Anglesey was far more enjoyable. You hug the Welsh coast for about 79 miles and then turn right for London and the southeast. Approx. 6 hours of relatively easy driving gets you to Dover. To be fair it's not too bad a run.
The rest on board the Stena boat does break up the journey if you are coming from the "North".
One thing you will have to watch however is the plethora of speed cameras over the motorways on the route down through England, as it seems the local authories and the police over there are hell bent on adding another £200 to the cost of your trip down to Dover.
So be careful, you have been warned.
Once in Dover I was travelling across to Calais with a company called "MY FERRY LINK". I have to confess I had never heard of them before. The reason being that MyFerryLink (www.myferrylink.com) is the newest ferry operator on the popular Dover to Calais route and they began their operations on the English Channel in August 2012.
LOW FARES
With fares as low as £19 for a passenger and a car you can imagine they have had a very good season. Their fleet consists of two modern superferries – sister ships the Rodin and the Berlioz – which carry passengers and freight, and one dedicated freight ship, Nord Pas-de-Calais. MyFerryLink offers passengers up to 16 sailings between Dover and Calais every day, and additional services for freight. Both the Rodin and the Berlioz are spacious and well-equipped ferries that offer customers a relaxed and enjoyable journey across the Channel. On board you will find great places to eat, bars for a relaxing drink and snack, and a well-stocked shop for picking up a bargain or two.
SUPERB STAFF
The staff on board the ferry fleet are all members of a workers' co-operative – a société coopérative et participative, or SCOP, in French – which operates the company's sailings between Britain and France.
Because the crew have a stake in the business, they have all the more reason to go the extra mile for their customers. With a range of fantastic ferry offers; MyFerryLink's Dover-Calais ferry service is the ideal way to cross the channel. Whether it's the cheapest prices on ferries to France or an armful of bargains on wines, perfumes, and more that you're looking for, MyFerryLink has many amazing offers that will save you money.
IN A RUSH?
If you're in a hurry you can of course upgrade to their Rapide – priority service ticket that means you're first on and off the ferry, nice if you want to catch the wine supermarkets. Talking of somewhere to buy that all-important wine, I have a great place for you to visit if you are in Calais.
Calais Wine SuperstoreThe Calais Wine Superstore www.calaiswine.co.uk, Rue Marcel Doret, Calais +33 3 21 19 00 19, is a 100% British owned and run independent business whose owners have been in the Cross Channel trade since it began in 1993! They stock a huge range of wines and beers at UK duty – free prices.
Next: When in Calais region what is there to do?